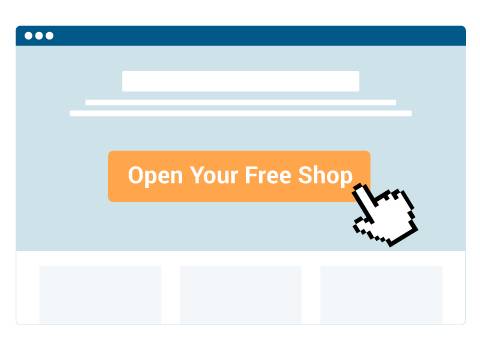 Open Your Own Shop
Spreadshop is absolutely, positively, 100% free. There are no fees or hidden charges, and you won't have to pay a dime throughout your selling experience. Spreadshop is completely risk-free, so you have no excuse not to try it out. After all, who doesn't like making some extra money?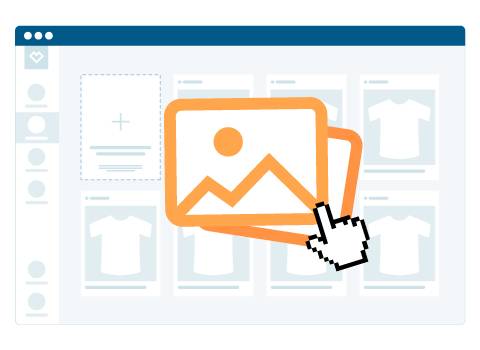 Upload Your Designs
Why stress yourself out and use a glitchy website that barely works? At Spreadshop, you can easily upload your own personal design or photo, and you can then add it to any of our customizable products. If you're hoping to sell your designs online without the stress, then Spreadshop is the perfect choice.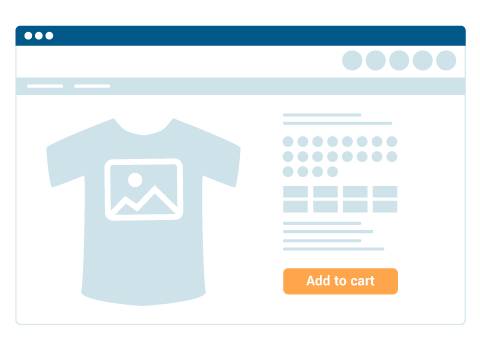 Start Selling Designs
Want to make some money off your creative ideas? After uploading your design and attaching it to any of our customizable products, you can quickly and easily put that product up for sale! If you're intending to sell T-shirts online to make money, then Spreadshop is the place to make that happen.
Mobile or Desktop: Spreadshop YOUR Way
Focus on your target group by customizing your Spreadshop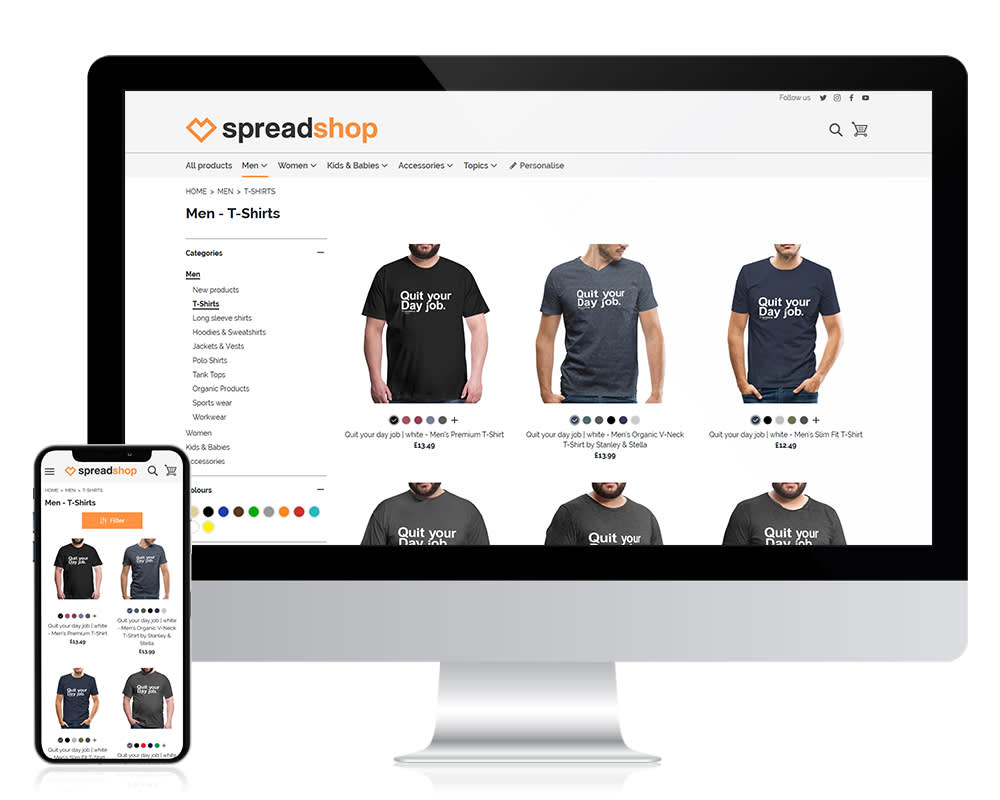 Stand out with your own design Shop. Modify your Shop start page to match your brand. Customization settings are quick and easy, so you can stay focused on selling.
No Limits so you can create as many products as you want.
You're in Control of your prices and earnings.
Beginner or Expert opening a Shop is easy, no matter your experience level.
Spreadshop is Free. Forever.
Set Your Prices
You decide your retail prices. We subtract the base price for the product, you keep the rest.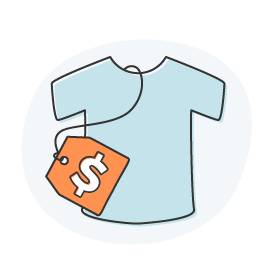 Product base price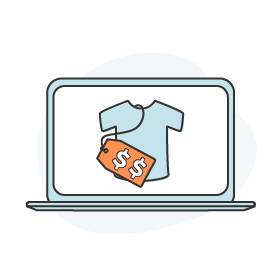 Retail price incl. your margin
Sell More to Earn More
You control your margin. The more you sell, the more we reward you with reduced product base prices. This increases your margin.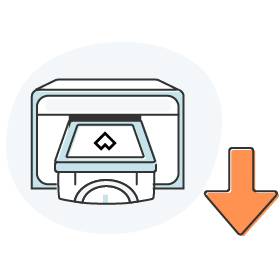 Production costs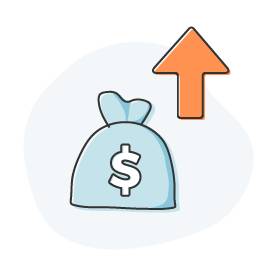 Your earnings
Monthly Payout
When you have an additional source of income to count on, there's a lot more you can do for your business. So, when you're making sales in your Spreadshop, that monthly payout will provide you with something that you can reinvest into your business. Plus, it's easy to track your sales and stats on-the-go, so you'll know what to expect for every payout!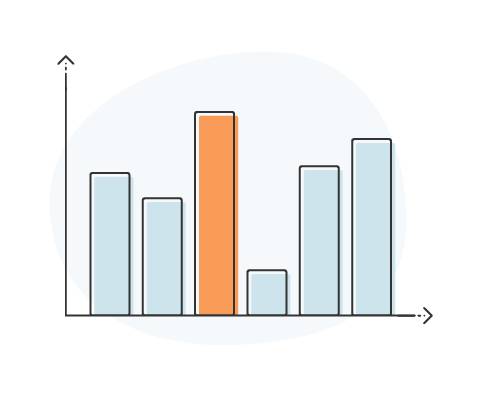 Your Spreadshop, Your Rules.
You set your prices. You determine your profit margin. You decide if and when to run discount promotions. You even get rewarded with a higher margin when you make more sales. With Spreadshop, you have complete control over your brand, your marketing, and your earnings.
Discount promos for your customers
Keep your customers coming back for more with enticing monthly promos. You decide when and if to run promo campaigns for your Shop. Develop your brand's own marketing strategy!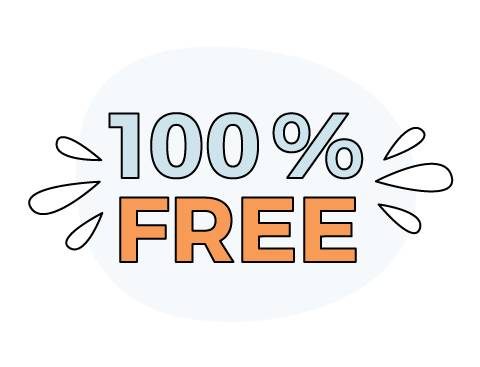 No fees? Is This for Real?
Yes. Spreadshop is (and always will be) 100% FREE! No surprise fees, no subscription charges, no catch. You can only make money with Spreadshop...never lose it.
Testimonials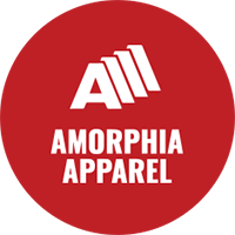 Jeremy Kalgreen
Amorphia
"Spreadshop's printing options are way better than the alternatives. I've had some sample shirts made from other print-on-demand companies and I thought the quality was terrible. The margins are also better with Spreadshop, which is naturally important if you want to make a living doing this."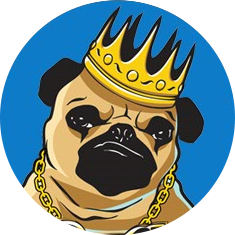 Robbert Muurbloempje
Thug Life
"I've been a fan of Spreadshop since leaving Teespring. Everything works smoothly, and the designer tool is very user-friendly. Made a lot of sales without maintaining a website and orders on a daily base."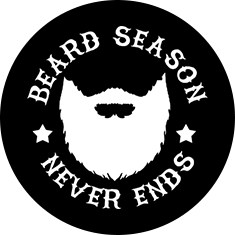 Jeff Rice
Partner Since 2012
"I use Spreadshop because it's the most efficient, innovative, and cost-effective platform on the market. You have the ability to control your inventory, offerings, and commission, which gives you a lot more flexibility. Spreadshop continues to remain the industry standard for good reason."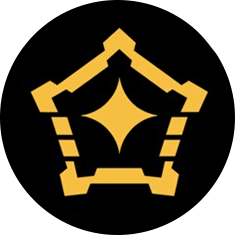 Zack D'Ulisse
Partner Since 2012
"Balancing a full-time graphic design job as well as my small T-shirt business can be tough, but the convenience and efficiency are second to none and allows me to keep peace of mind when it comes to production and shipping."
Frequently Asked Questions
Is Spreadshop really free?
Opening a Spreadshop is absolutely free! We focus on print-on-demand products, so there are absolutely zero expenses on your end. All we ask is that you provide your creativity… we'll handle the rest.
Do I really make money with every sale?
You do! You'll make money from every single sale, which makes sense since they're *your* ideas. Plus, we offer the most lucrative commission payouts in the industry, so your creativity will be rewarded in your monthly earnings.
Are there any bonuses if I sell more?
We've introduced a brand-new volume commission program, meaning you can earn some extra money if you sell just 26+ products within a single month. These earnings will be in addition to your regular commission, meaning your earnings potential is practically neverending.
Can I integrate the Shop with my website?
Yes! Just because you opened a Spreadshop, it doesn't mean you should ignore your existing website. Rather, you can quickly integrate your Shop into practically any website. Simply take advantage of our various plug-ins (as well as some intuitive JavaScript solutions) to make it a reality!
How far can I go with my Shop Customization?
It's your Shop, so you might as well make it your way. There are plenty of ways to customize your Spreadshop, and it goes beyond your ability to choose a color scheme or header image. Rather, with a simple bit of CSS work, you can truly make your Spreadshop one of a kind.
Why sell merchandise?
Do you want to be your own boss? Do you want to start selling T-shirts online to make money? Do you want your creative designs to get the recognition they deserve? These are all major reasons why you should be opening your own Spreadshop.